Summary rating from user's marks. You can set own marks for this article - just click on stars above and press "Accept".
Accept
Aibotix Aibot X6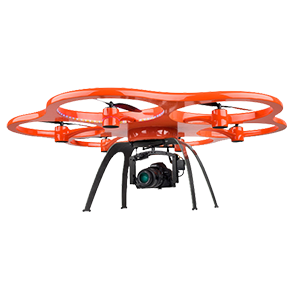 The Aibotix Aibot X6 V2 drone has the most unique design of any we have included on our list this year, as it includes 6 rotors that are driven by brushless motors. The high performance of these motors allow the copter to climb at a rate of 18 MPH and travels at roughly 25 MPH. This drone is also the biggest on our list, being 3.4 feet in length and 1.5 feet in height. The Aibot X6 features an ultra-light though exceptionally durable Carbon Fiber Reinforced Plastic housing, which also provides the drone with increased stability without weighing it down. In addition to this, the housing minimizes the potential risk of damaging the unit and protects the rotors from possible ruin. Bystanders and objects are protected from the rotating propellers as well, giving this drone extra points for its unique design and added safety measure.
Users do not need any special training or experience to operate the Aibot X6. This innovative flying drone uses image processing software and artificial intelligence amalgamated with individual motion sensors, which shields it from colliding with any other object while in operation. Automated takeoff and landing makes the Aibot X6 even easier to control. A flick of a switch and a button press on the controller is all it takes to takeoff and land the unit. The included come home function returns the drone back to its starting point easily and effectively, allowing you peace of mind if the unit goes out of sight.
Weighing 3,400 grams and able to carry up to 2,000 grams this drone offers an impressive 'up to' 30 minute flight time rating. Navigation is made easy with a GPS receiver and smart-sensor fusion system that includes a gyroscope, accelerometer, barometer, magnetometers, and ultrasonic sensors. The drone is able to fly up to 3,280 feet over ground in ideal conditions, at a maximum of 9,842 feet above sea level. The operating temperature can range from -4° to 104° F. The 30 minute flight time is dependent upon operating mode, weather and payload.
This Hexa-copter generates high quality data and the exceptional camera mount with automatic pitch and roll compensation provides blur-free images. The Aibot X6 hosts an enhanced level of engineering, yet remains effortless to operate. Its flying board is cleverly designed with a cutting-edge, multi-rotor capability and the unit itself can be operated via tablet PC. Overall this is a high quality flying drone that has been specifically developed for the demanding tasks such as:
• Disaster and Danger Assessment
• Military Surveillance
• Aerial Land Surveying
• Geographic Informational Systems
• Cartography
• Industrial Inspections
• High Profile Sporting Events
With a hefty price tag of $30,000 for the basic copter package, you know you are getting something meant for pros instead of the average consumer user looking to use the unit for sports and other extreme video shots. Included in that price is one Aibot x6, eight 5000 mAh LiPoly batteries, battery case, charger capable of charging four batteries at a time, power supply for the charger, radio control with real-time telemetry display, Camera for live video downlink, and flight assist mode for the radio control unit.
This high quality Hexa-Copter drone has impressed us with its unique design, functions, capabilities, user friendliness and more. For this and other reasons, the Aibotix Aibot X6 rounds out our list of iReviews 2015 best drones.
Related YouTube videos: