Summary rating from user's marks. You can set own marks for this article - just click on stars above and press "Accept".
Accept
HoloCube HC70
Price:
$21,800
Pros:
1. Easy to use.
2. Large 70" diagonal screen allows full-sized human projections.
3. Preforms well in bright daylight.
Cons:
1. Extremely heavy.
2. High cost makes it too expensive for most.
Back to reviews
Visit website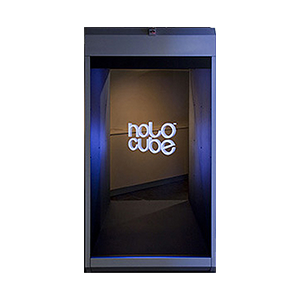 The HoloCube HC70 is an innovate projection system for projecting either 18 hours of compressed video at a bit rate of 4 Mb/s or 8 hours of compressed video at 9 Mb/s, using a 70 inch 1080 x 1920 DPI transparent display with a 178°/178° viewing angle and contrast ratio of 2000:1. This holographic projector offers a brightness of 600 cd/m2, allowing it to operate well in bright daylight. The transparent display allows users to view holographs on both sides of the unit, which allows for a larger number of viewers to see projections at one time. The HC70 comes in either black or white metal with a powder coating finish. Included in the purchase of the HoloCube HC70 is the entire unit, being the system box and 70″ display screen, optional floor stand kit and remote for the on screen display. Other optional additions to the HC70 include a distance sensor and touch device, though they must be purchased separately.
Using only a single power switch, the system is able to boot fully in 10 seconds, powered by the embedded machine running Windows 7 on an Intel Dual Core 2.8 GHz processor, 2 GB of RAM and a 40 GB of space on a solid state drive. The hard drive is designed and set with numerous automatic functions, including an automatic reboot after a power disturbance, and it will resume its previous performance with no human intervention. The unit also boasts an integrated 25 watt stereo speaker system in which to play any sounds you desire to accompany your projections.
The unique workings of the HoloCube HC70 system allows practically 'Life Size' 3D projections and combines the ultimate state-of-the-art projection techniques available today with a sleek style. Products are able to be focused in stunning detail to make your products stand out unlike they ever have in the past. The large size of the projector distributes high resolution videos with magnificent quality for displaying products or people. Uploading and changing projected content is easy: as easy as loading your media onto a USB storage accessory, plugging it into the HoloCube HC70 and letting the data be copied onto the included solid state disk drive. The HC70 holographic projector turns 2D videos into 3D holographs that display in stunning detail without needing any secondary equipment, such as 3D glasses, for viewing. Videos are easily configured to display in 3D for product presentations.
The HoloCube HC70 works at temperatures between 32 and 104° F (0-40° C) and can withstand up to a maximum of 80% humidity, so rainy outdoor areas are best to be avoided unless some kind of covering is being provided to protect the unit. As mentioned before, the projector offers a brightness of 600 cd/m2, allowing for high visibility in even the brightest daylight conditions, or bright indoor conditions, under harsh commercial lighting. As this is a self-contained unit that utilizes predominantly embedded technology, including the built-in display, for holographic projections, there is no need to worry about the quality of lighting in the venue it is placed.
The HoloCube HC70 is well suited for retail environments and product expos designed to showcase items. Displaying products via 3D holograph matches the needs of today's high-tech and fashion forward shoppers. The high quality of the projected videos will provide further interest in displayed products as they're being accurately showcased within the HC70's high quality, high resolution display. Holographic displays such as this may very well mark the way of the future when it comes to onsite product display and advertisement.
Though the HoloCube HC70 is constructed to be rather large, it does not appear to have many difficulties fitting through standard doors, depending on the site conditions. The unit dimensions are 1030 x 2058 x 1821 mm WxHxD, or roughly 3ft 6.5in x 6ft 9.1in x 5ft 11.7″ WxHxD. Coming in two large packages and weighing 600 kg, not including the 80 kg package, the weight of the item could cause difficulties in moving and set up. The large class display could potentially pose a problem with moving the unit as well, as it is required for the unit to work, though it could actually be firmly enough in place to prevent this from being a problem.
HoloCube has really stepped up their game when you compare the HC70 to previous, smaller versions, though the price tag pretty much concludes that it's unlikely to be widely used anytime soon, though it does seem to be a knockout with bigger businesses and enterprises wanting to wow the crowds. Undoubtedly, the HC70 is an amazing advancement in technology, even though it's still a far cry from the type of technologically advanced holograms imagined and dreamed of. Perhaps someday, HoloCube will come up with a holographic projector that does not require a sheet of glass to project upon. The resulting projections the HC70 gives are impressive, considering that holographic projection technology has a bit to go before we see full-on Star Trek style holodeck units.
With its beautiful matte finish, as well as the large contained projection area, in addition to high resolution, the HoloCube HC70 rounds out our list of iReview 2015 best holographic projectors, as well as being hailed as the most innovative.
Related YouTube videos: