Summary rating from user's marks. You can set own marks for this article - just click on stars above and press "Accept".
Accept
DreamQii PlexiDrone
Price:
$699-$2,499
Pros:
1. Multiple platform support
2. Ready to Fly
3. Additional Options
Cons:
1. Slightly Higher Price
Back to reviews
Visit website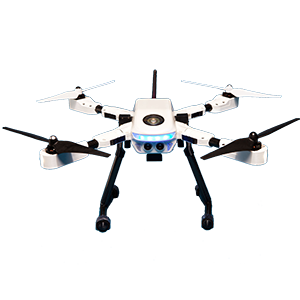 DreamQii's PlexiDrone will be hitting the market in Spring 2015 and has us excitedly waiting in anticipation of all it has to offer. Ready to go from the box, this small, user friendly drone can be operated by the PlexiGCS App for iOS, Android, and Windows. This drone snaps together in under a minute and no tools are required. The PlexiDrone works with your favorite camera and mobile device and offers options available for additional cost to really make your shots breathtaking!
The PlexiDrone makes capturing amazing aerial videos and pictures easier than before. GPS Follow Me and real-time camera control right from your smart-phone or mobile device gives this drone a competitive edge over others. PlexiGCS allows you to control multiple PlexiDrones at one time, giving you the ability to capture videos from all angles. The GPS Follow Me on the PlexiGCS app is as easy as pressing "Follow Me"; the drone will then follow a moving object, or stay focused on a single point of interest. The moving target would need a mobile device, iOS, Android or Windows smartphone running the app and have their GPS enabled. PlexiGCS allows for live video feed from any WiFi or IP camera, GPS Waypoint planning and navigation, simplified direction control, real-time telemetry display, single touch GPS Follow Me, control of camera view & rotation, real-time voice and buzzer alerts, sharing of photos while you fly, and more. Of course, control via a standard 2.4 GHz Radio Controller is also available if desired.
DreamQii added on a feature that will save you from the work of cropping your shots in post production by making the landing gear retractable. This provides a 360° field of view with no propellers or landing gear in the way, making shots far more professional. Included ultrasonic sensing allows the PlexiDrone to detect obstacles in its path with a sensing distance of up to 32 feet away. The PlexiDrone's Obstacle Avoidance feature allows you to decide if you want the drone to stop completely or find another path entirely if it experiences an obstacle. A bottom facing ultrasonic sensor on the unit allows for altitude hold and automatic extension of landing gear to protect your camera if the drone comes too close to the ground. Two optical sensors, one front-facing and the other bottom-facing, increase stability in indoor flight even without GPS availability.
The current cost of the PlexiDrone Starter kit is $699. This is a pre-order price that is below what the expected consumer price will be once the drone is available in retail stores. Included in this price is a PlexiDrone, PlexiHub, 3S 6250 mAh LiPoly battery and battery charger. You can upgrade the PlexiDrone from a Quad-Copter to an Octo-Copter by purchasing the Octo Upgrade PlexiArm kit for an additional $199. The Octo-Copter upgrade allows for better stability and heavier payload capacity. With the original Quad-Copter propeller system, the PlexiDrone can carry a maximum 1000 gram (2 pound) payload. The Octo-Copter upgrade increases the maximum to 1500 grams (3.1 pounds), though it should be noted that the upgrade does reduce flight time somewhat.
With the standard Quad-Copter arms and propellers the PlexiDrone has a 29 minute hover or 25 minute mixed flight time. With the optional Octo-Copter upgrade the flight times reduce to 24 minutes for hover only and 20 minutes for mixed. Both sets of the flight times are great for a consumer friendly flying drone. At 15 x 15 x 5 inches, and 2.2 pounds Quad-Copter and 3 pounds Octo-Copter, the PlexiDrone is a light weight, consumer friendly, high quality drone that has us extremely impressed. We are pleased to put the DreamQii PlexiDrone on our list of iReviews 2015 best drones.
Related YouTube videos:
Embed: <a href="http://drones.ireviews.com/dreamqii-plexidrone-review"><img src="http://www1.ireviews.com/images/2015-iReviews-bronze-badge.png" alt="DreamQii PlexiDrone iReview"/></a>